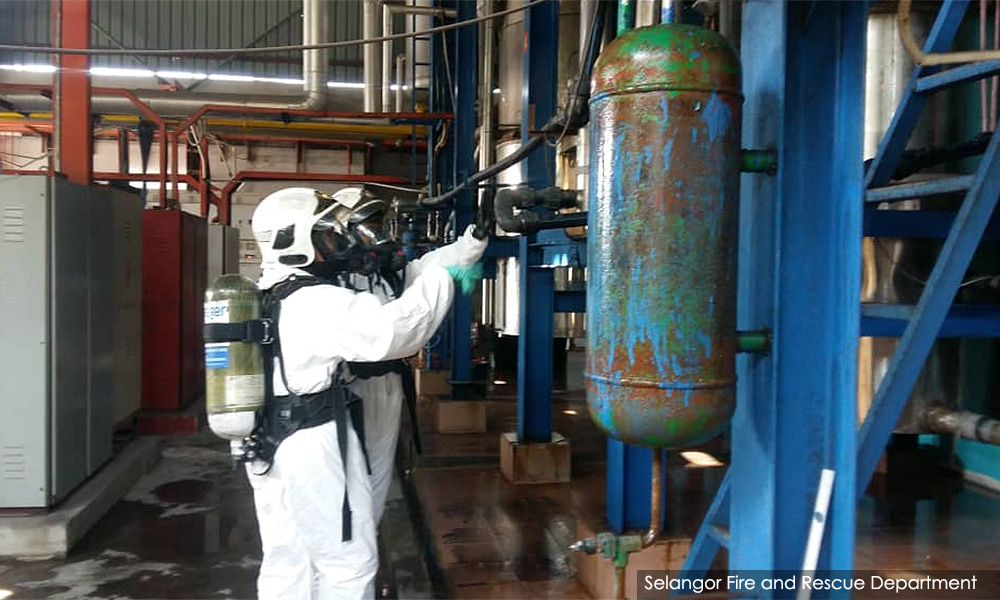 Two people were killed in an ammonia gas leak incident at an ice factory in Shah Alam this morning.
The 5am incident at Desa Latania also saw 18 factory workers sent to the hospital for treatment.
Selangor Fire and Rescue Department in a statement said a school, SJKC Chung Hwa Klang, which is situated nearby, has been closed down on their advice following the incident.
The department's officer in charge of the Shah Alam zone, Yusri Basri, told reporters that residents within a three-kilometer radius of the factory were told to vacate their premises.
This, he added, was taken as a precautionary measure.
"We received a call on the incident at 5.12am, and rushed a total of seven officers and 19 firemen, mostly from our Hazmat (Hazardous Material) team, to the scene.
"When we arrived at 5.30am, the gas reading inside the factory was as high as 500 ppm (parts per million)," he said, adding that they then immediately ordered all workers and the affected residents to evacuate the area.
The firemen found that the gas leak originated from one of five machines at the factory and the first responders switched off all gas valves there to stop the leak.
""To neutralise the gas, we sprayed water mist. Our concern then was the change of wind direction, which we feared might spread the leaked gas to other areas nearby.
"But as of 11am, there was no longer gas reading as high as 500 ppm.""
Yusri added that the three-kilometre radius was off-limits until the department declares it safe.
He said all 20 factory workers were Indian nationals.
Eighteen are receiving treatment at various hospitals in the Klang Valley, namely the Shah Alam Hospital, Tengku Ampuan Rahimah Hospital, Sungai Buloh Hospital and Banting Hospital.