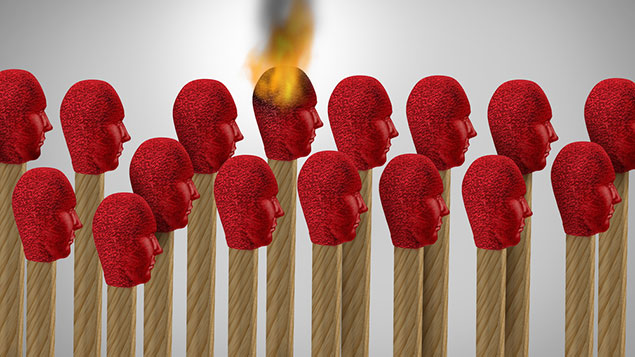 Faced with growing uncertainty and rapid change, organisations need to develop leadership capabilities at speed. But that does not come without risk. Jo Faragher spoke to leadership expert Ines Wichert about her new book and how businesses can support leaders to grow without overstretching them.
Ines Wichert argues that those buzzwords we keep hearing, from digital disruption to VUCA (volatility, uncertainty, complexity and ambiguity), are no longer the stuff of futuristic TED talks.
These concepts have become the reality for most organisations. "This is not hype anymore, this is happening right now," she says. "And we need to prepare leaders to face constant change."
In her new book, Accelerated Leadership Development: How to turn your top talent into leaders, she builds a picture of how organisations can accelerate development for a new generation of millennial leaders through a combination of well-thought-out role progression and learning and mentoring support. Her research, outlined in the book, suggests that organisations can reduce the time taken from graduate entry to director level by 25% to 30%, or graduate to C-suite in 14 years instead of an average of 20.
Contrary to many of the assumptions made about millennial workers – that they're entitled, lazy, and lack the necessary workplace skills to survive in a fast-changing corporate environment – Wichert believes that there's never been a better opportunity to push leadership skills further down the organisation.
"These people have ambition, confidence, but also seek clarity and want to be heard," she explains. "When they want to have a go at leadership, it's because they want to make an impact rather than they seek status. And they're not prepared to tread water for too long until it's time for the next stage.
Against this backdrop, Wichert argues that organisations need to develop well-rounded leaders faster than ever before, and millennials that are hungry for development offer a neat solution.
"Accelerated leadership can bring these two worlds together quite nicely. Millennials are pushing organisations to progress and move at a faster pace, and we need people who are agile," she says.
This new cohort of leaders, adds Wichert, must acquire a range of leadership capabilities – from emotional intelligence and good communication skills, through to the ability to reflect and collaborate with others.
Organisations can offer formal development programmes to help build these capabilities, but also consider how roles are set up to stretch leaders and provide learning experiences that will take them to the next step in their career.
Taking it all in
There is a word of caution, however. Wichert advises businesses not to "accelerate leadership development for the sake of it".
She adds: "With acceleration comes a certain level of risk. It should be a case of moving from one 'stretch' role to another, pushing people outside of their comfort zone. At the same time, employees should be able to extract learning from each situation."
For this reason, she advocates a "3 x 3" model, whereby employees move across the organisation in three-year intervals or thereabouts. A year to get to know the role, the second year to push it forward, and another to prepare for the next challenge. More junior employees may be likely to move around sooner and more senior staff at a slower pace; the key is to consolidate what employees are learning at each stage in their career.
Going too fast can risk incomplete learning and even burnout, she says. "There is definitely a tipping point where this can risk burnout, where new leaders have to draw on their resilience constantly and it runs out.
"Organisations can support this by encouraging mindful or reflective learning, for example through regular reviews to check people are on track, or looking at a temporary move to an alternative role, an acceptable plan B."
Stepping back
And while it's important to show employees visible career progression through the organisation to leadership level, it should also foster a culture where it's acceptable to "come off the track" for a while and get back on later.
Wichert adds: "Organisations need to create an environment where it's OK to step back for a year or whatever to consolidate. Otherwise, it can be difficult for someone if they feel like they can't – and they could end up leaving."
On a practical level, the best way to accelerate the path to leadership is to ensure it is visible. "You can't handhold every employee through every role and onto their next, but you can make roles more visible, have internal job boards, earmark certain roles for development," she says.
"Think about how you make roles available to people – on the job learning makes for effective learning opportunities. Potential leaders need to see that if they want to chart their own career there are examples, there's a forum they can network in, for example, or that there's an internal job market."
With acceleration comes a certain level of risk. It should be a case of moving from one 'stretch' role to another, pushing people outside of their comfort zone." – Ines Wichert
Rounded skills
Many organisations choose to offer leadership programmes at two key points: promising graduates and to middle management where they need to boost their skills before moving further up the ladder.
Graduate-level leadership training is of benefit even if employees don't use their learning immediately, argues Wichert.
"Where employees have been rotated at the start but then don't do much with that straight away, it's still of benefit because they have that agile outlook and will move up higher and faster," she says. "They have that global thinking, and they're flexible because they've had to adapt, they've done lots of different things early on so they're agile."
It's also crucial to support current and future leaders to learn from failure. Wichert adds: "If someone moves from one role to the next and does not see the impact of what we've done, they may fail at some stage and not have the support network to help. Also, more senior people who are used to seeing that person succeed may react badly."
The same goes for their team-building skills. Building leadership potential at an earlier stage and offering more frequent opportunities to lead projects and teams is positive, but rounded leaders must understand the impact of their actions on other people.
"We're looking for roundedness ultimately, people skills, not just the technical stuff," she concludes. Again, they need to be able to learn the value of building strong teams. "Move around too much, and you don't get to see the rewards."
Source: https://www.personneltoday.com/hr/how-to-grow-leaders-fast-without-risking-burn-out/